Faith Serves
On October 4th, 2019 our students will be participating in a fundraising day for Faith Christian School. Each year, Faith Christian School high school students participate in our annual FAITH SERVES.  At Faith Serves, our high schoolers will be doing a community service project at Twin Pines Camp in Stroudsburg. They will be raising funds for scholarships, technology, school improvement and educational programs.  Please consider sponsoring our students for the day.
SHARE TO FACEBOOK
Copy and paste this text to facebook:
My child will be participating in a community service project at Twin Pines Camp in Stroudsburg on October 4th, 2019 to raise funds for Faith Christian School. Please consider sponsoring them for the day.
SPONSOR NOW
www.fcslions.org/faith-serves
-OR- SHARE TO OTHER SOCIAL MEDIA
Save & post the image below to any other social media.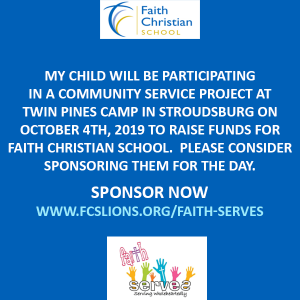 Faith Serves is a very special day in the life of our school. On October 4, 2019, all of Faith Christian high school will be participating in a community service project at Twin Pines Camp to raise money for our school. Shawn Fetterhoff, Executive Director at Twin Pines, is excited to have the FCS students come and serve at Twin Pines for the day. Twin Pines is a Christian Camp committed to providing quality, Christ-centered, creative educational experiences in a natural environment with the resources of the Pocono's natural surroundings significantly contributing to the mental, physical, social and spiritual growth of their campers. Our Faith Serves theme is based on Ephesians 6:7-8, "Serve wholeheartedly, as if you were serving the Lord, not men, because you know that the Lord will reward everyone for whatever good he does, whether he is slave or free."
We will be sprucing up the facilities, raking leaves, cutting wood and any other projects the camp may need done. Our high school students have set a God sized goal of raising $15,000 to support the needs of our students and families. Proceeds will be going toward vital school improvements, educational programs, and scholarships for families in need. Last year, FAITH SERVES, along with FAITH WALKS (for elementary school), was a huge success, thanks to the generosity of your friends and family, all over the country. Faith Christian School was able to raise $13,800!