Update from 2021 Giving Tuesday
In 2022 Faith Christian School participated in our second Giving Tuesday campaign: "Shocking Creativity" AEDs and 3D Printers. Our goal was to raise $5,000 for two projects:
Project #1: Purchase two AEDs one to be placed at North Campus for public use and a second portable AED for our home sports games.
Project #2: Purchase two 3D Printers and accessories to enhance our STEAM curriculum.
Thanks to so many of you, we surpassed that goal and raised $6,747.90. We purchased 2 AEDs one is outside the gym and the other travels with our varsity sports teams.
We have set $3,000 aside to purchase the 3D printer the summer of 2023 and they will go in our new technology lab set to open the 2023 school year.
We are excited about our 3nd Giving Tuesday Campaign on November 29th with a GOAL of $6,000
"Enhancing Technology and Security" 
Giving Tuesday is a global day of giving back. On the Tuesday following Thanksgiving, people around the world will come together to celebrate generosity and make an impact in their world.
Project #1: Purchase 2 Promethean Active Panels for our new building at 314 Lincoln Ave. – GOAL $3,000
Promethean's next-generation interactive panel delivers a robust, seamless, and interactive experience and responds to the unique needs of teachers and students.
Promethean Active Panels allow teachers to:
Work seamlessly with educational platforms like Google Classroom and Microsoft Teams
Open two browsers on the panel at once for improved instruction
Collaborate and communicate in the classroom with Screen Share
Record lessons, including classroom voices and panel content
Share recorded lessons with remote and absent students through any platform
Have students directly interact with the lesson on screen….
Project #2: Purchase new security system and cameras for our new building at 314 Lincoln Ave. and replace the cameras at South Campus – GOAL $3,000
Providing a safe and secure campus environment for students, teachers, staff, and visitors is a top priority for Faith Christian School. We are looking to purchase a new security system with the following features:
Buzz in magnetic door locks with key pad and camera attached
Security cameras that reliably deliver clear high-quality video

can see 100 ft. in darkness with advanced infrared night vision technology
operate both indoors and outdoors
can be remotely viewed from a PC, smart phone, or tablet from anywhere at any time.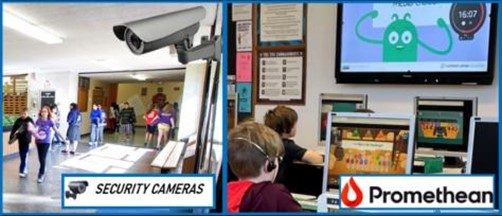 You can view and share with friends this year's campaign with this link:
http://faithchristianschool.betterworld.org/campaigns/enhancing-technology-security