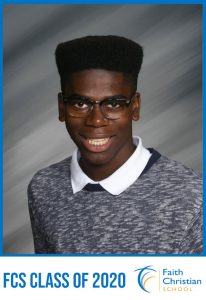 What is your College or Post High School Plans?
I will be attending East Stroudsburg University after High School to major in Biology with a focus in Pre-med.
What do you love about Faith Christian School?
One thing I love about FCS is the friendships I've made there; I can say fully that I've made lifelong friendships in that building.
What was one of your favorite activities, trips, or events at FCS?
One of my favorite trips that I went on with FCS was the New York trip we went on with Mrs. Barnard to visit the MET.
Describe one of your favorite teachers and tell why he/she is a favorite.
One of my favorite teachers was Miss. Perry, she was fun, energetic, and chill. She was always there for you to talk to.
In what ways have you grown in your faith as a result of your experience at Faith Christian School?
I grew in my faith here at FCS when I joined the praise team. I felt my relationship grow with God every time I got to stand up and worship Him in chapel.
The mission of Faith Christian School is to provide a unique Christ-centered education that instills character based on biblical principles and develops academic excellence for the purpose of preparing young people to serve and impact the world for Jesus Christ. How has Faith Christian School fulfilled its mission in your experiences?
FCS encourages a lot of outreach to other Christian organizations, so throughout my high school career they have helped instill a character of servitude to others in need. It's something I will take out into the world with me.
What opportunities did you experience at FCS that you don't think you would have gotten to experience anywhere else?
Going to FCS has afforded me the opportunity to worship and talk about Christ openly and freely without judgement or shame.
What would you say to a prospective student considering joining Faith Christian School?
It's not the best school, the people won't always be great, and neither will the facilities but the atmosphere that comes out of that school is amazing.