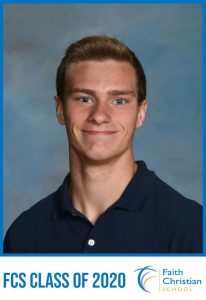 What is your College or Post High School Plans?
I am going to be attending Northampton community college for 2 years and I don't know really know what I am going to do beyond that point. I will be waiting on God's direction.
What do you love about Faith Christian School?
The atmosphere and the loving people and everybody is friends with each other and its such a great vibe.
What was one of your favorite activities, trips, or events at FCS?
My favorite activities were the sporting events and how we would cheer each other on and could really feel the school spirit in the stands whether it was soccer or basketball.
Describe one of your favorite teachers and tell why he/she is a favorite.
My favorite teacher is probably Mrs. Cleaver because she is so kind and loving and she has love for everybody that is in her classes and was so welcoming. She welcomed me with open arms.
In what ways have you grown in your faith as a result of your experience at Faith Christian School?
In my knowledge of the Bible and I have a better understanding about the books of the Bible and feel that I can expressed and share my faith more confidently now.
The mission of Faith Christian School is to provide a unique Christ-centered education that instills character based on biblical principles and develops academic excellence for the purpose of preparing young people to serve and impact the world for Jesus Christ. How has Faith Christian School fulfilled its mission in your experiences?
Faith has prepared me to not be scared to share and express my faith openly and to apply the principles of the Bible to everything I do. I am and want to more like Christ and walk in His footsteps.
How do you feel that FCS prepared you for graduation, college/career and life?
Faith has prepared me in being more extroverted and helped me to step outside my comfort zone. My confidence has grown!
What opportunities did you experience at FCS that you don't think you would have gotten to experience anywhere else?
The fun and loving atmosphere and the relationships I have built with everybody whether it was fellow classmates, underclassmen or teachers.
What would you say to a prospective student considering joining Faith Christian School?
You're going to love it here because everybody is so caring to each other and it is such a fun learning experience. The amount you will learn about yourself is great.