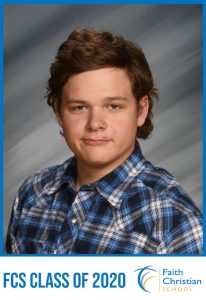 College or Post High School Plans:
I will be most likely looking for some type of masonry job.
What do you love about Faith Christian School?
I love how we can be in a school system that supports our Lord in a world where God is banned in most other schools.
What was one of your favorite activities, trips, or events at FCS?
Chapel is definitely a favorite because it's always good to see what the Lord will say through the speaker.
Describe one of your favorite teachers and tell why he/she is a favorite.
I will give a three way tie to Mr. Delorme, Mr. Costanzo, and Mrs. Thomas because they have been so helpful to me this year and I think I wouldn't have been able to complete this year without them.
In what ways have you grown in your faith as a result of your experience at Faith Christian School?
I feel as if I am not afraid to speak about the Lord publicly and that I won't feel embarrassed if someone tries to make fun of me for my faith.
The mission of Faith Christian School is to provide a unique Christ-centered education that instills character based on biblical principles and develops academic excellence for the purpose of preparing young people to serve and impact the world for Jesus Christ. How has Faith Christian School fulfilled its mission in your experiences?
FCS fulfilled it by having me view the world in God's perspective and not just my own perspective.
How do you feel that FCS prepared you for graduation, college/career and life?
It prepared me by always showing me who I can go to if I needed help because the Lord will always be with me and I have been shown that the whole time I've been at FCS.
What opportunities did you experience at FCS that you don't think you would have gotten to experience anywhere else?
Obviously, as I said before, the implication of Christ into my education.
What would you say to a prospective student considering joining Faith Christian School?
I would tell that prospective student to not even think about it because God has a plan for you and He will show you the decision that they should take.