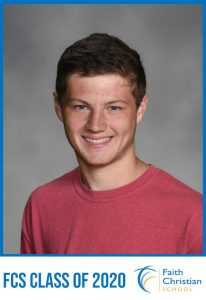 What are your College or Post High School Plans:
I plan to attend NCC to take general studies courses.
What do you love about Faith Christian School?
At FCS I love the Christian atmosphere and unity that we have at the school.
What was one of your favorite activities, trips, or events at FCS?
My favorite activity at FCS was playing soccer for the school, especially with how successful the team was in my junior and senior seasons.
Describe one of your favorite teachers and tell why he/she is a favorite.
One of my favorite teachers at FCS was my 8th through tenth grade Bible teacher because he taught enthusiastically and he tried to make himself as relatable and personable to students as possible.
In what ways have you grown in your faith as a result of your experience at Faith Christian School?
As I have attended FCS my faith has grown by making me more confident in my faith and my understanding of who God wants me to be and how he wants me to live my life.
The mission of Faith Christian School is to provide a unique Christ-centered education that instills character based on biblical principles and develops academic excellence for the purpose of preparing young people to serve and impact the world for Jesus Christ. How has Faith Christian School fulfilled its mission in your experiences?
In my experience FCS has fulfilled its mission because of how I have seen my classmates and I grow in Biblical character, and because of how all of my classes were presented from a Christian perspective by every teacher.
How do you feel that FCS prepared you for graduation, college/career and life?
I feel that FCS has prepared me for my life in the future by teaching me that I can seek other Christians for help in my faith, and by teaching me that I can and should live my life for God in every way.
What opportunities did you experience at FCS that you don't think you would have gotten to experience anywhere else?
If I didn't attend FCS I don't think I would have got to experience the schoolwide unity that comes from attending a Christian school like we have. I also don't think I would have been able to practice and competitively play sports as much as I got to at FCS.
What would you say to a prospective student considering joining Faith Christian School?
To a student looking to join FCS I would tell them to make the most of and enjoy the Christian education and opportunities that they are receiving going to FCS.