Track & Field
Varsity and Middle School Track and Field are available every spring.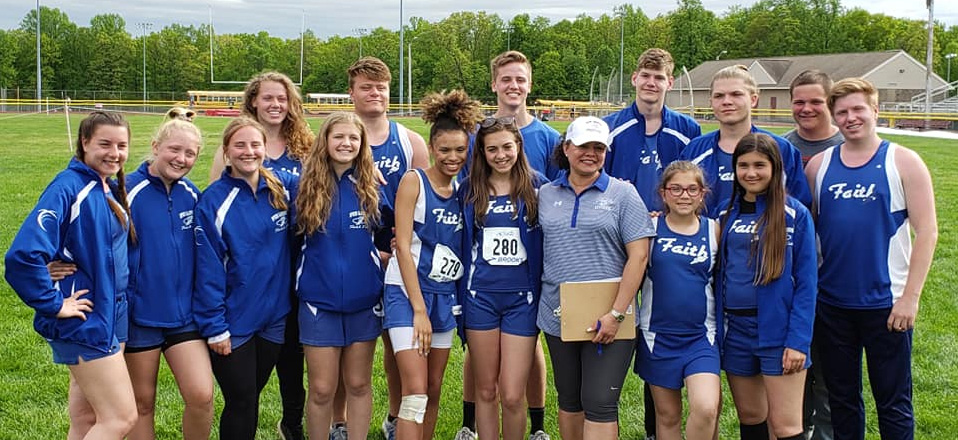 TRACK AND FIELD DIRECTIONS
Most of the directions are written as if leaving from FCS. Please use your GPS, Google Maps or call the school for more detailed directions.

Home Meets
Bangor Park Athletic Field
90 Eisenhart Boulevard, Bangor, PA 18013
Take a right onto Dante St and follow until the 5 way intersection. Take a right onto Front St. This turns into N 8th St follow for 0.6 miles. Make a right onto Market St followed by an immediate right onto S 8th St. Follow for 2 blocks and then turn right on Broadway. Straight ahead you will see the entrance to the track and parking on the right.

Away Meets
Blair Academy
2 Park St., Blairstown, NJ 07825
Go down the hill on Columbus St. Turn right onto Fox Gap Ave. After 0.3 miles make the hair pin left turn onto Ridge Rd. Follow this for 3.5 miles. This road will turn into Lillian Lane, follow that road until PA-512 N. Turn left on 512 N and follow for 1.6 miles then turn left onto 611-N. Cross the bridge and continue on NJ-94 N for 8 miles. Make a slight left on Park St and then an immediate left on Golf Course Rd. This will take you to the track and parking lot.
Columbia Christian
4777 Old Berwick Road, Bloomsburg, PA 17815-3515
Take 80 West toward Hazleton. Follow for 65 miles. Take exit 241 to merge onto US-11 toward Lime Ridge. Follow for 1.1 miles and then turn left onto Keefers Ln. When this dead ends turn right onto 4th St/Old Berwick Rd. The Track will be on the right in 0.7 miles.
Gill St Bernards School
(Location of School) 21 St Bernards Rd, Far Hills, NJ 07931
(Location of Track) 60 Old Chester Rd, Gladstone, NJ 07934
Take 80 East toward Netcong/New York City. Take exit 27A-27B for US-206 S/I-80 W toward NJ-183 N/Netcong/Somerville/US-46 W. Keep right at the fork to continue toward US-206 S. Stay on 206 S for 9.4 miles. Take a slight left onto Old Chester Rd. After 2.3 miles turn left onto St Bernards Rd. Go past the main entrance on the right and take the next right after looping around the school. That road will lead you to the track.
MACSA (Mid-Atlantic Christian School Association)
(Location of College) Messiah College 1 College Ave, Mechanicsburg, PA 17055
(Location of Track) Starry Fields, Dillsburg, PA 17019
Take 33 South to 22 West to 78 West. Then take I-81 S toward Harrisburg. Get off at exit 70 for US 322 E/Interstate 83 S toward South Harrisburg/York. Merge onto I-83 South and continue following signs for 83 S. After crossing the river keep left at the fork to continue on PA-581 W follow signs for Camp Hill/Gettysburg. After 2 miles take exit 5B-A and keep left for exit 5B. Follow signs for US15/Gettysburg and merge onto US-15 S. After 6.4 miles take the Lisburn Rd exit. After crossing under the highway turn right at Mill Rd and follow it for 0.5 miles. Turn left onto College Ave and follow until the covered bridge. Turn right and go through the covered bridge and you have arrived.
Quakertown
349 S 9th St, Quakertown, PA 18951
Take 33 South to 78 West. Take exit 60A for PA-309 S toward Quakertown. Continue on 309 for 10 miles then turn left onto S 9th St. Follow for 0.3 miles and the track will be on your right.
Stroudsburg High School
(Location of School) 1100 W Main St, Stroudsburg, PA 18360
(Location of Track) 115 Stadium St, Stroudsburg, PA 18360
Go down Columbus St to the stop light and turn left onto PA-191 N. Go over Bangor mountain. At the bottom of the mountain go through the stop sign and straight for 1 mile. Turn left and get 80 West. Get off at the next exit, exit 306. Turn right on Dreher Ave and go straight through the light into Stroudsburg High School. Turn left when the road dead ends and follow that road all the way around the school to the stadium. You have arrived.