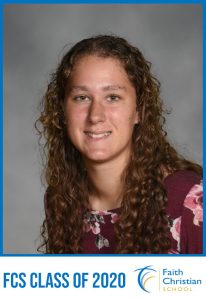 What are your college or post high school Plans?
I will be attending Clark Summit University for early childhood education.
What do you love about Faith Christian School?
I loved about FCS is everyone is treated and it is a great place to learn about Christ.
What was one of your favorite activities, trips, or events at FCS?
My favorite activity was Faith Serves, where we worked at local camps helping them paint, clean, rake leaves, it shows who we are. Being able to serve others was a blessing.
Describe one of your favorite teachers and tell why he/she is a favorite.
One of my favorite teachers would have to be "Mama" Cleaver because she is like a mom to all of us at FCS.
In what ways have you grown in your faith as a result of your experience at Faith Christian School?
Well, it is one thing to hear the Word it is another thing to believe it. Faith Christian school has shown me to never stop believing, but also to get out of the boat!
The mission of Faith Christian School is to provide a unique Christ-centered education that instills character based on biblical principles and develops academic excellence for the purpose of preparing young people to serve and impact the world for Jesus Christ. How has Faith Christian School fulfilled its mission in your experiences?
FCS does everything for others and God.
How do you feel that FCS prepared you for graduation, college/career and life?
FCS has taught me the basic fundamental and given me a good foundation to be a successful student.
What opportunities did you experience at FCS that you don't think you would have gotten to experience anywhere else?
FCS teaches the true meaning of the Word of God and to be brave like Peter and get out of the boat. I think FCS has shown me how important it is to serve others through the Bible making projects and Operation Christmas Child shoe boxes.
What would you say to a prospective student considering joining Faith Christian School?
As a freshman I found Faith giving me a chance to redefine myself, to lay the foundation for the rest of my life. I believe that Faith will help anyone get through hard times and show you the way to the light through Christ Jesus.