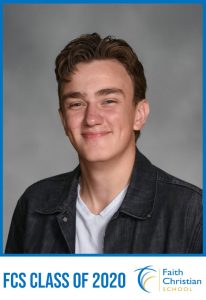 What are your college or post high school Plans?
After I graduate, I am going to Fort Leonardwood, Missouri for basic and AIT training for a truck driver with the Pennsylvania National Guard. During my time there I will be awaiting God's calling for the rest of my career and life.
What do you love about Faith Christian School?
One of the biggest things that I love about Faith Christian School is the teacher to student ratio. It promotes good relations with your teachers and you can really get to know each other and it really improves your learning experience. Having the same teachers every year also allows you to get comfortable and understand what each teacher expects. When you have the same students in your classes each year, you really get to know them. You build bonds and friendships like no other.
What was one of your favorite activities, trips, or events at FCS?
Some of my favorite memories are in the Bible study my classmates and I have led at lunch over the years. We get to help young men grow spiritually and we get to see people step up to leadership and come out of their bubble and really open up. It has always put a smile on my face and really brought me joy.
Describe one of your favorite teachers and tell why he/she is a favorite.
Mrs. Cleaver has always been one of my favorite teachers, and not only because she is my class advisor. She is so wholesome and has such a loving heart. I have had loads of opportunities to talk with her, about math, school, life, Jesus, and even planning things like class meetings and senior trips. She would always take time out of math class to make sure everyone understood everything. She is so uplifting no matter what is going on in any of our lives. You can really tell that she is a whole-hearted Christian.
In what ways have you grown in your faith as a result of your experience here at Faith Christian School?
I have learned to be more open about my faith in sharing it with others. First it started out with Paul McMichael in eighth grade when he encouraged us to start a Boys' Bible study. It really sprouted from there. Paul has been a very spiritual leader in my life, during his time at FCS and not. I have spoken at a chapel both my Junior and Senior year and have led or co-led a Bible study almost every year since eighth grade. These have both developed me into what I think is a pretty confident spiritual leader.
The mission of Faith Christian School is to provide a unique Christ-centered education that instills character based on biblical principles and develops academic excellence for the purpose of preparing young people to serve and impact the world for Jesus Christ. How has Faith Christian School fulfilled its mission in your experiences?
No matter the subject or discussion, teachers relate it back to the Bible. I think that is an amazing thing and really teaches us a lot more than the book could. They provide us with practical connections to the curriculum, the Bible, and the real world, connections that not everyone could see for themselves. Even with current events in our society, they would take their limited class time to tell us what the Bible says about it and how we as Christians should be reacting to it, even if the event is outside of their subject or field of study.
How do you feel that FCS prepared you for graduation, college/career and life?
Faith Christian School has really shown me that I can make a difference or change in the world. Serving on student council and planning an event and then seeing it unfold is really uplifting. Knowing that my friends and I planned this from scratch and put this together, and now it is actually happening. Watching it go from just an idea in a meeting to an actual event that kids enjoy or that we raise money really just makes you feel good. It is the same way in life; we may have an idea and think it will just remain that way. Well it will until you put it into action, through teamwork, communication, planning, time, and effort you can change the world. It certainly does not mean it will be easy, but it is possible.
What opportunities did you experience at FCS that you don't think you would have gotten to experience anywhere else?
One of the biggest opportunities that I had at Faith Christian School was to be in leadership. I served as a class representative my seventh and eighth grade years for student council. Ninth grade I was class vice president. Then tenth grade through senior year I was class president. Senior year I had the amazing opportunity to be class president, student body president and National Honors Society president. These really challenged me and gave me extra work but I enjoyed it. It promoted my leadership skills and shaped me to be a better leader and pick up more leadership qualities. Faith Christian has a vast number of leadership positions even if it does not seem like it. For example, praise team, I do AV for praise team. But I also get involved with the chapels by spiritually encouraging and doing worship into speaker transitions. David and I also assist the office several times a week with small, simple projects. Students have opportunities for the National Honors Society, student council, praise team, lead Bible study, teacher's assistant, office assistant, and so many other things.
What would you say to a prospective student considering joining Faith Christian School?
I would say to not look at the building or facilities. That is not Faith Christian School; FCS is the student body and the staff. We may not have the nicest building or the fanciest technology or the variety of electives like other schools will have, but you will not find another school with such an outstanding group of students and staff. We have a very positive and Spiritual student body that feeds off of each other. The teachers truly care about you and love you as God calls them to. In public school, a teacher may see 300 different kids each day, so a student is just another kid who is in and out of their class. At Faith, the teachers may only see 50 kids a day. They learn your learning style and figure out the best ways for you to succeed. You can grow personal connections with them and they can help you with things going on outside of class. I have had teachers that let you sleep in class because they know you have problems going on at home. I have had teachers that brought students food daily because they knew their parents were not feeding them. Certain teachers can tell when you are not okay and they will go out of their way to help you. I am very grateful for my parents working extra jobs so that they could afford a private education for all my siblings and I. I do not know where I would be with my education, faith, leadership, or friend group without Faith Christian School.