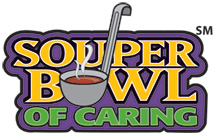 Our school is proud to announce that we are participating in the 2018 Souper Bowl of Caring!
Souper Bowl of Caring uses the energy around our nation's biggest sporting event to mobilize and inspire youth to fight hunger and poverty. Students develop a strong sense of mission as they draw attention to this cause and work to secure donations for the community in need.
During the event, students will collect items and give 100% of their donations to The Fellowship Food Outreach. We will report our total to the "Souper Bowl of Caring" so our students become part of the national total. Through this experience they learn the power of working together to make a difference in the lives of others.
Help us make this year's goal a reality as we strive for 100% participation.  Let's give every student the benefit of this positive learning experience!
Our collection will take place from January 5 through February 9, 2018.
WE WILL COLLECT:
~Spaghetti, tomato sauce, peanut butter, jelly, apple juice and grape juice.
We will donate our collection to: The Fellowship Food Outreach, 300 Cromwell Street, P'burg, NJ
 Thank you for doing your part to make our 2018 Souper Bowl of Caring a success!
Sincerely,
Mrs. Leeann Long
Principal
Faith Christian School
Jewell Utt
Director
Fellowship Food Outreach
For more information on Souper Bowl of Caring go to tacklehunger.org